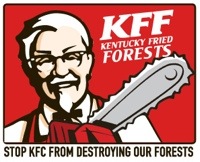 Here is a recipe for the best chicken nuggets. Ever.
I love to cook for my son Titus, a toddler who can be quite picky about the food on his plate. I take great pride in cooking a meal that makes this food critic beg for more.
My star dish, as far as Titus is concerned, is undoubtedly chicken nuggets. I love them too. That's because they taste great – with that addictive crunchy bite and all – yet they are fat free, oven-baked, and ready-to-eat in minutes. Forget KFC!
Here's what you need for a bowl of golden brown chicken nuggets:
– 600 grams of free range / organic chicken filet
– 2 eggs
– 1 cup of grated parmesan cheese
– 1 cup of bread crumbs
– coriander powder
– some grated lemon zest
– pepper and salt
Recipe
Preheat your oven to 200 degrees C. Clutch the eggs in a bowl. Grate the parmesan in another bowl and stir in the bread crumbs, lemon zest and coriander powder. Season with pepper and salt. Cut the chicken filet in bite-size chunks.
Dip the chunks first in the egg and then in the bread crumb mixture. Make sure they are covered well, and place them on a baking sheet lined with parchment paper. Bake in the oven until golden brown (about 10 minutes).
Serve with garlic yoghurt (minced garlic, yoghurt, pinch of salt), a hot sauce or mango chutney.